Daily Seafood is a Toronto-based seafood company that delivers quality, sustainably-sourced seafood across Toronto and the GTA.
Table of Contents
What sets Daily Seafood apart from other seafood companies?
Daily Seafood's goal is to provide you with quality, sustainably sourced seafood safely and quickly.
They are committed to sourcing seafood from sustainable and credible fisheries. Each product description contains the catching location, method, and type of certification, so you know where your food is coming from.
Why Order From Daily Seafood?
Quality
They strive to bring you the highest quality seafood from around the world. With a large, ever-changing seafood selection, you will surely have new delicious options to try every week.
Sustainability
Sustainable seafood is seafood that has been caught or harvested in a method that ensures the long-term survival and health of that species and its ecosystem. Throughout history, many certifications and recommendation programs have set guidelines outlining current sustainable farming and fishing practices.
Not all labelling companies have the same guidelines when it comes to sustainability. However, many share similar visions and goals regarding sustainable seafood.
The Four Pillars of Sustainable Seafood
There are four pillars of sustainable seafood: environmental, animal health and Welfare, fishery management and social accountability. You can learn more about these on their blog about sustainable seafood.
A Safe Workplace
As well as sustainability, you can count on them to observe the safety and sanitation practices that are so important. They take sanitation and workplace safety very seriously.
Ever want to learn how to cook a whole octopus? For recipes and more information on sustainable seafood, visit Daily Seafood's blog.
How to Get Your Seafood Delivered
Ordering your seafood for pickup or delivery is as easy as visiting their website at shop.dailyseafood.ca and start making your order.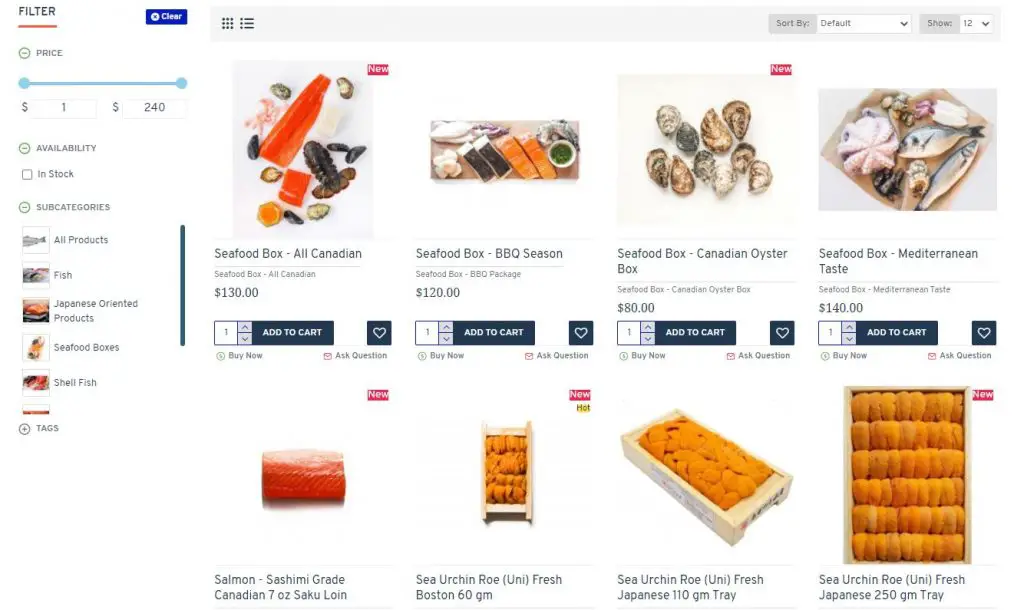 They offer fresh fish, shellfish, shrimp, seafood boxes and speciality items such as Caviar, Octopus, Smoked Salmon and more.
You can order easily through their website. You can pick from hundreds of fresh seafood products, including Arctic Char, Cod, Haddock, Halibut, Yellowtail, Salmon, Sea Bass, Tilapia, Tuna, Trout, Crab, Clams, Lobster, Mussels, Lobster, Shrimp, Octopus, Squid and much more.
For pickup at 135 Blake Street, Toronto, an order has to be at least $50.00. Toronto deliveries require a minimum order of $80.00, with free delivery over $120.00.
Daily Seafood ships to Toronto and GTA area, including Vaughan, North York, Scarborough, Richmond Hill, Aurora, Newmarket, Pickering, Oakville, Etobicoke, Mississauga, Hamilton and Waterloo.
You can learn more about delivery and pickup times here.
Visit them at dailyseafood.ca today to see what is available.