Whether you're looking for some nightlife, catching a live band or comedy show, or enjoying a pint, Barrie's bars and pubs can offer you all that.
With its fantastic location on the shores of Kempenfelt Bay and its proximity to Toronto – less than an hour away by car – the city of Barrie is a tourist hotspot in its own right nowadays, and of course, the hundreds of thousands of annual visitors need to quench their thirst just as much as the residents of this terrific Simcoe County metropolis. Luckily then, Barrie has a huge number of watering holes to choose from, ranging from uber-trendy craft beer emporiums to outdoor patios with stunning views as well as some of the hottest live music venues around. So here is a taste of some Barrie bars and pubs to visit next time you're in the city.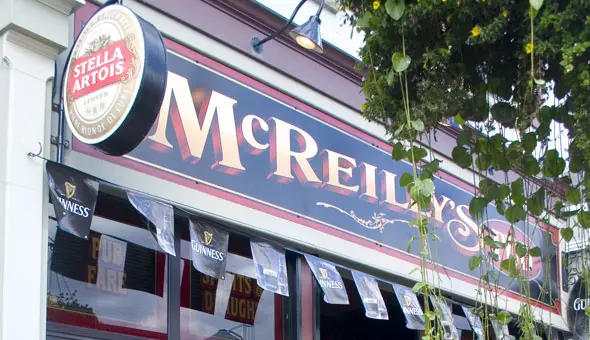 Table of Contents
Barrie bars and pubs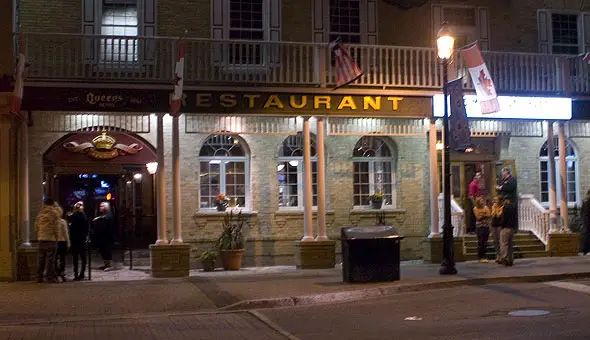 Looking for just a regular pub to get some food and some beers? Here are two choices that aren't too noisy and the food is good.
Bull & Barrel Pub In business for over 20 years, the Bull & Barrel Pub is an authentic English-style tavern with a classic pub interior complete with a roaring fireplace. The Bull features an impressive selection of local and imported beers and ales complemented by hearty pub grub fare. Drop by for live music and weekend specials on weekends, but get there early as it's quite popular.
The Queen's Hotel For over 30 years, Queen's Hotel has been a nightclub and sports bar on Dunlop St. East near Mulcaster St. in downtown Barrie. Open six days a week, The Queen's Hotel has been called "Barrie's favourite hometown bar where all the locals come to play!" Whether seeking lunch or dinner from the Italian-Canadian menu or late-night entertainment, guests can stop by The Queens six days a week and enjoy a refreshing drink in comfortable surroundings.  The nightclub is 19+ and attracts a student crowd. The club dress code is Casual (no sportswear, jerseys and athletic shoes), and they play mostly Top 40, Hip Hop, and R&B. 
Honourable mentions: Donaleigh's, Mcreilly's Pub, and Kenzington Burger Bar are also in the downtown area and are solid choices for a pub night.
If you're looking for a burger and beer, we've got a full article on where to find a good burger in Barrie here.
Live Music and Entertainment
Barrie has a few places offering live music and stand-up shows. Until the early '00, Yuk Yuks Comedy had a club in the Mansion Bar downtown. While that's long gone, there are still two solid choices.
Donaleigh's Irish Public House, a traditional Irish pub, Donaleigh's can be found in the historic Five Corners area of the city and boasts live music, great food, two outdoor patios and the warm hospitality you've come to expect from this type of venue. All this and Heritage Park and Barrie's marina are just a stone's throw away.
Kenzington Burger Bar has two Barrie locations, and both feature live music events on one of their two patios.
Barrie's Downtown Brewery
Flying Monkeys Craft Brewery Another Dunlop Street East establishment near the shores of Kempenfelt Bay, the Flying Monkeys' motto is 'Normal is Weird,' and this brilliant spot goes out of its way to prove it. Brewing award-winning beers in Barrie since 2004, the Flying Monkeys Tap Room reflects the Brewery's culture with eclectic décor, enthusiastic staff, live local music, and a cool atmosphere that will make you want to return again and again.
Sports Bars and Pool Halls
The Locker Room Out in the suburbs in the middle of a small shopping plaza but worth the short trip, the Locker Room Sports Bar and Grill is an unfussy but enjoyable venue with no airs or graces. What it does deliver, though, is plenty of beer – there are eighteen drafts on tap – and lots of filling food, including 'Barrie's Best Chicken Wings', as well as a host of televisions blaring sports around the bar, plus – and this should be a clincher for anyone – free fresh popcorn for its patrons. For the latter alone, The Locker Room is not to be missed!
The Penalty Box Described by its new owners – it changed hands in 2017 – as 'Barrie's finest sports bar', The Penalty Box can be found a mile south of the waterfront and is an ideal spot for get-togethers with family and friends. Its large interior coupled with a whole host of flat-screen TVs showing the latest games means a great night out is in the offing for those willing to drive out to the plaza it is situated in, while live music, karaoke nights, lots of food choices and a large patio only add to the draw of this venerable city watering hole.
Alliance Billiards Old school and proud of it, Alliance Billiards is a little out of the way on a business plaza in the city's north end, but it is hard to beat for unreconstructed pool hall vibes. Simple décor, plenty of tables to rack and play, plus great food, drinks and service make Alliance Billiards an excellent, no-frills place to spend an evening with friends. Occasional live music, dart boards, themed nights and a colossal ten feet square projector screen showing all the sports events mean a fun time is guaranteed here.
If these aren't to your tastes, 4 St. Louis Bar and Grills are also currently in the Barrie area. If you're staying at the Best Western, Quality Inn or Monte Carlo Inn near Hyw 400, Tiff's Restaurant & Sports Bar is a 5-minute walk east of them.
Barrie Patio Bars
Hooligans Yet another Dunlop Street East haunt, Hooligans outdoes most of the competition in the downtown area with its rooftop patio that affords patrons a spectacular view of Kempenfelt Bay – not to mention the city itself – that is simply unmissable. Inside is all about the fun, with the bar's motto of 'Eat, Drink, Cheer' followed to the letter by visitors and staff alike – there is much to enjoy here, with the sports bar offering a twenty-foot high HD TV for all the games, varied menus across lunch, dinner and the rooftop area, a fine selection of beers, wines and cocktails, plus, of course, that patio with its staggering views.
Honourable mentions: Donaleigh's, Flying Monkeys Craft Brewery, Mcreilly's Pub, and Kenzington Burger Bar are known for their patios too.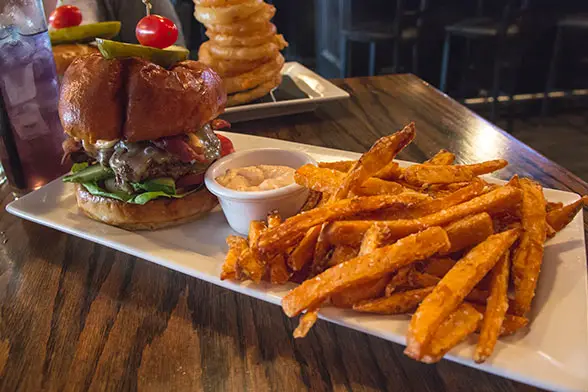 Guys Night Out
Our list would be incomplete without mentioning Lakeside Upper Deck, Barrie's newest LGBT bar, and Crossover's Entertainment Lounge. Apparently, the food is good.
Crossover's Entertainment Lounge is a strip club at 428 Dunlop St. near Femdale Dr. in the west end of Barrie near highway 400. Crossovers are open seven days a week and serve lunch and dinner.
They feature ladies of multi-ethnicities, are couple-friendly and have a VIP Room. Crossovers have generally received positive reviews and are Barrie's only remaining strip club after Silver Star and Misty's Cafe ("Non-Stop Adult Entertainment") stopped a few years ago.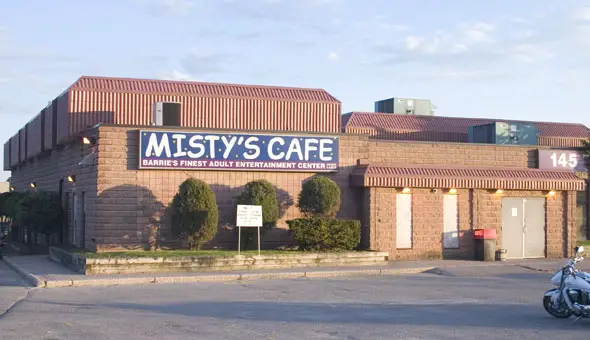 Next time you're up in Barrie looking for a new watering hole, try out some of these Barrie bars and pubs; you might become a regular.