With its fantastic location on the shores of Kempenfelt Bay and its proximity to Toronto, the city welcomes hundreds of thousands of annual visitors who need to quench their thirst just as much as the locals.
Luckily, Barrie, Ontario, has many watering holes, ranging from uber-trendy craft beer emporiums and sports bars to outdoor patios with stunning views and some of the hottest live music venues.
So here is a taste of some Barrie bars and pubs to visit next time you're in the city.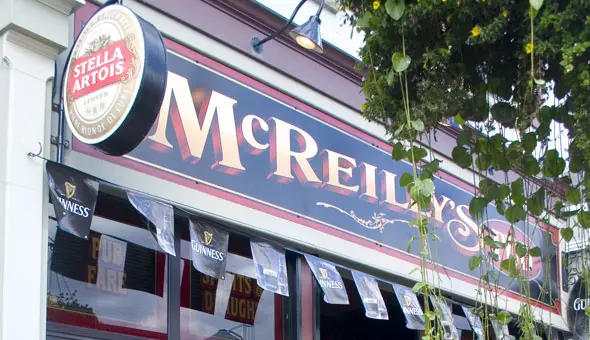 Table of Contents
Barrie Bars and Pubs With Great Food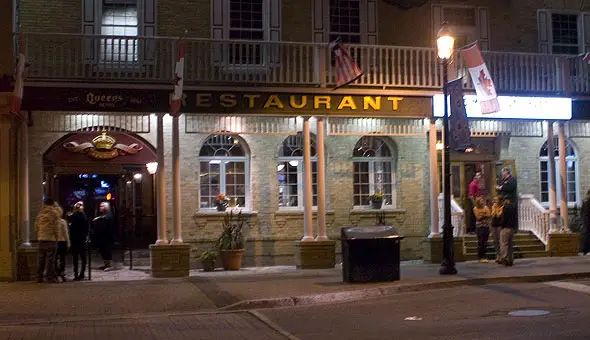 Looking for just a regular pub to get some comfort food and some beers? Here are two choices that aren't too noisy and the food is good.
Bull & Barrel PubIn business for over 20 years, the Bull & Barrel Pub is an authentic English-style tavern with a classic pub interior complete with a roaring fireplace. The Bull features an impressive selection of local and imported beers and ales complemented by hearty pub grub fare. Drop by for live music and weekend specials, but get there early as it's quite popular.
The Queen's Hotel For over 30 years, Queen's Hotel has been a nightclub and sports bar on Dunlop St. East near Mulcaster St. in downtown Barrie. Open six days a week, The Queen's Hotel has been called "Barrie's favourite hometown bar where all the locals come to play!" Whether seeking lunch or dinner from the Italian-Canadian menu or late-night entertainment, guests can stop by The Queens six days a week and enjoy a refreshing drink in comfortable surroundings.  The nightclub is 19+ and attracts a student crowd. The club dress code is Casual (no sportswear, jerseys and athletic shoes), and they play mostly Top 40, Hip Hop, and R&B. 
Honourable mentions: Donaleigh's, Mcreilly's Pub, and Kenzington Burger Bar are also in the downtown area and are solid choices for a pub night.
If you're looking for a burger and beer, we've got a full article on where to find a good burger in Barrie here.
Live Music and Entertainment
A few locations are offering live music and stand-up shows. Until the early '00, Yuk Yuks Comedy had a club in the Mansion Bar downtown.
While that's long gone, there are still two solid choices.
Donaleigh's Irish Public House, a traditional Irish pub, Donaleigh's can be found in the historic Five Corners area of the city and boasts live music, great food, two outdoor patios and the warm hospitality you've come to expect from this type of venue. All this and Heritage Park and the marina are just a stone's throw away.
Kenzington Burger Bar has two Barrie locations, and both feature live music events on one of their two patios.
Barrie's Downtown Brewery
Flying Monkeys Craft Brewery Another Dunlop Street East establishment near the shores of Kempenfelt Bay, the Flying Monkeys' motto is 'Normal is Weird,' and this brilliant spot goes out of its way to prove it.
Brewing award-winning brews locally since 2004, the Flying Monkeys Tap Room reflects the Brewery's culture with eclectic décor, enthusiastic staff, live local music, and a relaxed atmosphere that will make you want to return again and again.
3 Best Sports Bars in Barrie and Pool Halls
If these aren't to your tastes, there are 4 St. Louis Bar and Grill locations in the Barrie area.
Are you staying at the Best Western, Quality Inn or Monte Carlo Inn near Hyw 400? Tiff's Restaurant & Sports Bar is a 5-minute walk east of them.
Are you looking for more spots nearby? See our guide to where to eat near Barrie Hotels.
Barrie Patio Bars
Hooligans Yet another Dunlop Street East haunt, Hooligans outdoes most of the competition in the downtown area with its rooftop patio that affords patrons a spectacular view of Kempenfelt Bay – not to mention the city itself – that is simply unmissable. Inside is all about the fun, with the bar's motto of 'Eat, Drink, Cheer' followed to the letter by visitors and staff alike. There is much to enjoy here, with a twenty-foot high HD TV for all the games, varied menus across lunch, dinner and the rooftop area, a fine selection of beers, wines and cocktails, plus, of course, that rooftop with is an awesome view of the lake.
Honourable mentions: Donaleigh's, Flying Monkeys Craft Brewery, Mcreilly's Pub, and Kenzington Burger Bar are known for their patios too.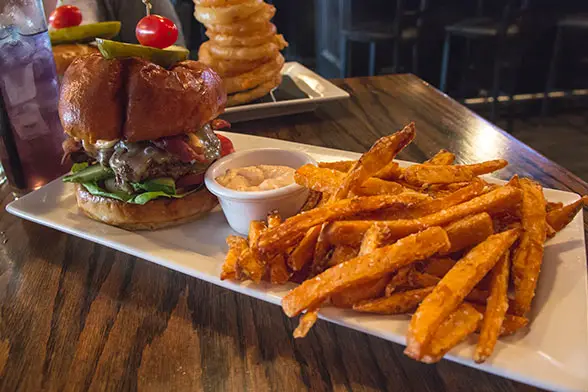 Guys Night Out
Our list would be incomplete without mentioning Lakeside Upper Deck, Barrie's newest LGBT bar, and Crossover's Entertainment Lounge. Apparently, the food is good.
Crossover's Entertainment Lounge is a strip club at 428 Dunlop St. near Ferndale Dr. in the west end near Highway 400. Crossovers are open seven days a week and serve lunch and dinner.
Crossovers have generally received positive reviews and are Barrie's only remaining strip club after Silver Star and Misty's Cafe ("Non-Stop Adult Entertainment") stopped doing business a few years ago.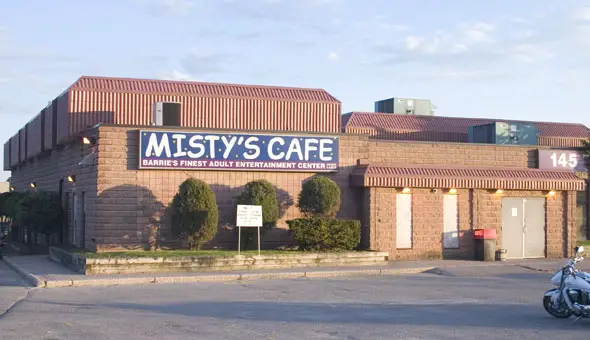 Next time you're up in Barrie looking for a new watering hole, try out some of these spots – you might become a regular.