268 Bradford Street, Barrie
Nestled just inside TripAdvisor's top twenty of Barrie's best restaurants, The Farmhouse is the brainchild of CityLine celebrity chef Randy Feltis, who co-owns and runs the restaurant with his wife, Sarah Jackson. Situated just a stone's throw from the city's Centennial Park, and with glorious views across Lake Simcoe's Kempenfelt Bay, the business opened its doors in 2013, but the building it is located in has a rich history. 
The Farmhouse is a lovely multi-storey redbrick century home, constructed in 1907 to house the Allandale Railway YMCA. It is an impressive waterfront mansion with two exterior patios for dining on as you gaze out at the water, while the interior has been described online as 'tastefully decorated and nice open space with exposed brick and old wood.'
Pros
Beautiful building with bay views
Relaxed, casual dining atmosphere
Able to accommodate large parties and weddings
Vegetarian-friendly and with a limited number of vegan options
Cons
Set on a bustling intersection of four major roads
Food can be quite expensive
Portions can be small for the price
No restrooms on the main restaurant floor, meaning people with disabilities or the elderly may not be able to use the ones upstairs
Described on its website as ''Barrie's premier farm to table restaurant', Feltis and Jackson grow their micro greens and fresh herbs on site using an indoor greenhouse, while juices from the bar are freshly pressed. The menu can be described as comfort food, with breakfasts such as pulled pork and bacon Benedict or French toast served 8 am to 2 pm Saturday and Sunday, while lunch and dinner feature firm favourites such as burgers, mac 'n cheese, glazed pork loin and crispy trout and are available seven days a week.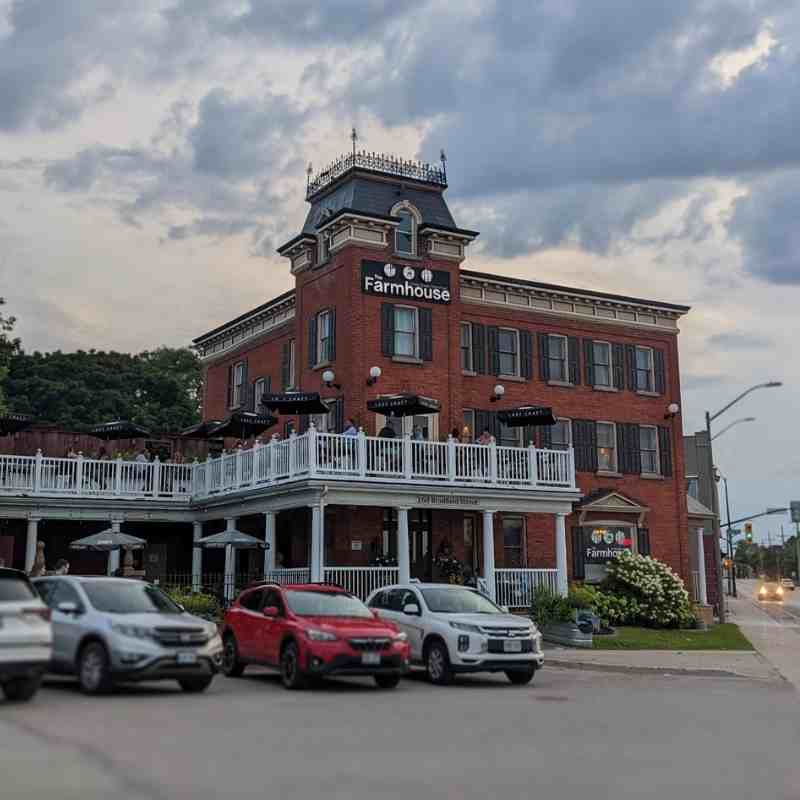 Feltis and his team also provide vegetarian and vegan-friendly options as well as gluten-free choices, meaning the restaurant caters for everyone. Also available between 3 and 5 pm each day is the Farmhouse's 'Appy Hour' where patrons can try half sizes of a variety of appetisers coupled with a selection of various beverage from the bar.
The Farmhouse has mostly positive reviews online, however, TripAdvisor reviews make frequent mention of the higher level of prices and the small size of some of the dishes and some of the wait times. Some OpenTable reviews complain about the noise levels from the bar and that it is often cold inside the restaurant.
With its own car parking area and free Wi-Fi, the Farmhouse also boasts the 'Farmhouse Residence', a newly renovated apartment above the restaurant that sleeps eight people, their 'Farmhouse Weddings' package which has its own Event Coordinators for the big day, and rentable private space where customers can hire rooms for catered corporate or private events.
Phone: 705.737.0522
Website: https://thefarmhouse.ca/