107 Dunlop St E, Barrie
The Flying Monkeys Craft Brewery staff do know something about beer! According to many, they brew the coolest craft beer in Ontario, to say nothing of Barrie itself, so you've got to come and taste it with friends. What makes the Flying Monkeys so phenomenal and demanded? Excellent products, unsurpassed service, and a focus on dedication and commitment to their profession.
Named by USA Today as one of the top-rated breweries in North America, the Flying Monkeys Craft Brewery never take laurel garlands for granted. They describe themselves as devoted, imaginative and never rushed, and they know brewing is a never-ending process of seeking perfection. Since 2004, they have won many awards for their beers, and their brewhouse has become Barrie's prime attraction. 
The Flying Monkeys brewery offers sixteen different kinds of beer, unlike a wet Monday morning and a happy Friday evening can be. This is the place where they care about brewing! Their menu considers every eclectic taste and fad of a beer-centric individual who comes to a bar or brewery for something old and new. The menu is limited to the dishes that do well with beer. Snacks and dishes, though not numerous, are truly delicious: from mouthwatering chicken burgers to the fresh Greek salad.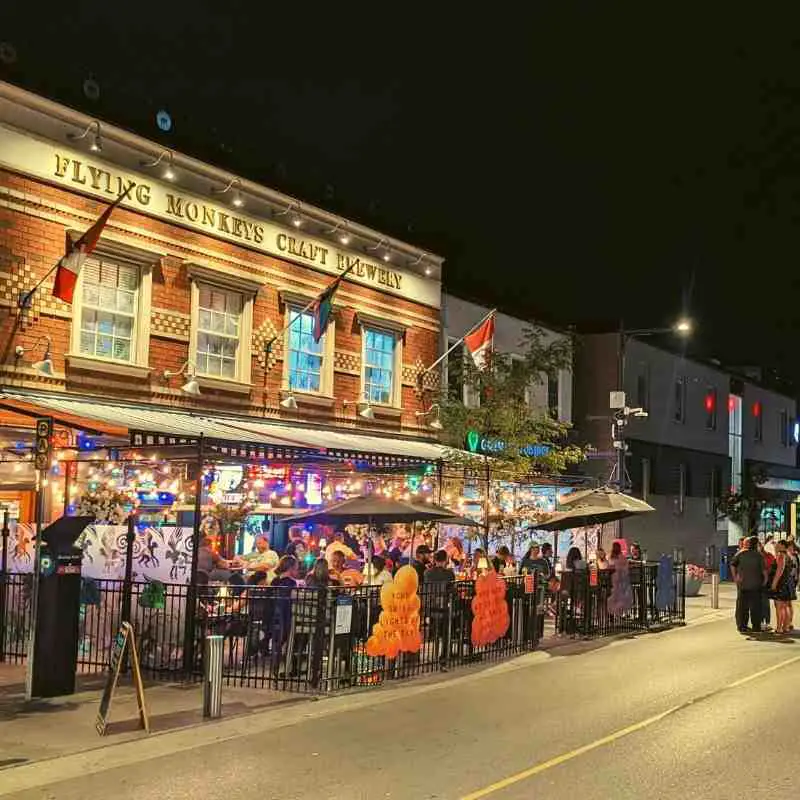 The staff are friendly and knowledgeable in everything one has to ask about beer, responsive and eager to hear the clients' feedback. Hospitality is one of the venue's key concepts. Over each table, there are little lights that can be switched on when service is needed. Simple and efficient!
The interior of the brewery is immensely creative and unique. There is also an excellent selection of gifts to everyone's taste. On weekends, live guitar music, original songs and ever-popular covers are often played. In summer, one can sip beer on a patio, chat with friends and watch people in the streets.
At times, however, The Flying Monkey Craft Brewery gets very noisy, making it difficult to have a conversation. When it is crowded, there might be an issue with finding a table. 
The Flying Monkeys were originally a place with a different name – the Robert Simpson Brewery. The same connoisseurs of beer started both breweries, so the spirit of the place has not changed much! In 2019, the Monkeys celebrated their anniversary – 10 years of excellence, experience and people's approval.
As a special offer, The Flying Monkeys Craft Brewery offers regular free tours to the brewhouse. When one gets acquainted with the brewing process backstage, they are all impressed and speechless. Despite the compact layout of the storefront brewery, the brewhouse is enormous! The venue gains even more local colour since visitors can walk along the well-lit streets of Barrie down to the lovely waterfront. 
Weekday tours are at 2 pm, Saturday tours at 1 pm, 2 pm, 3 pm, 4 pm and 5 pm. The Bottle Shop Closes at 11 pm on Friday and Saturday.
Phone: (705) 721-8989
Website: https://www.flyingmonkeys.ca/