28 Dunlop St. E. Barrie
Donaleigh's is an Irish pub at 28 Dunlop Street, right beside Barrie's historic Five Corners, serving authentic Irish food and beverages, like stouts, lagers, and Irish ales. They serve American, Canadian, and Irish cuisines, offering you plenty of options to choose from. In addition, you also have total bar wine and beverage selection at the pub.
You can also find plenty of seating options at Donaleighs, both indoor and outdoor. The seating arrangements include stools at the bar, dining tables in the library area, plenty of booths, and two outdoor patios from where you can enjoy the waterfront view of Kempenfelt Bay.
You can enjoy brunch, lunch, or dinner at the Donaleigh's as it remains open seven days a week, from morning till late at night. Those who want to dine in an outdoor seating arrangement can choose the back patio, surrounded by colourful fencing for privacy and decorated with mural sets, making the environment romantic and intimate for couples. 
For the indoor setting, you can choose between the east wing, closer to the pub, or the west side, the latest expansion, with more spacious seating for larger gatherings and an entire concert stage. 
The pub allows you to enjoy excellent food, a great ambience, live music, and entertainment from a great lineup of local musicians. Some of their regular artists include Rik Emmett, Memphis Mudd, The High Drive, The Barriers, Dustin Jones, and The Boothill Crooners, all well-known local artists and bands.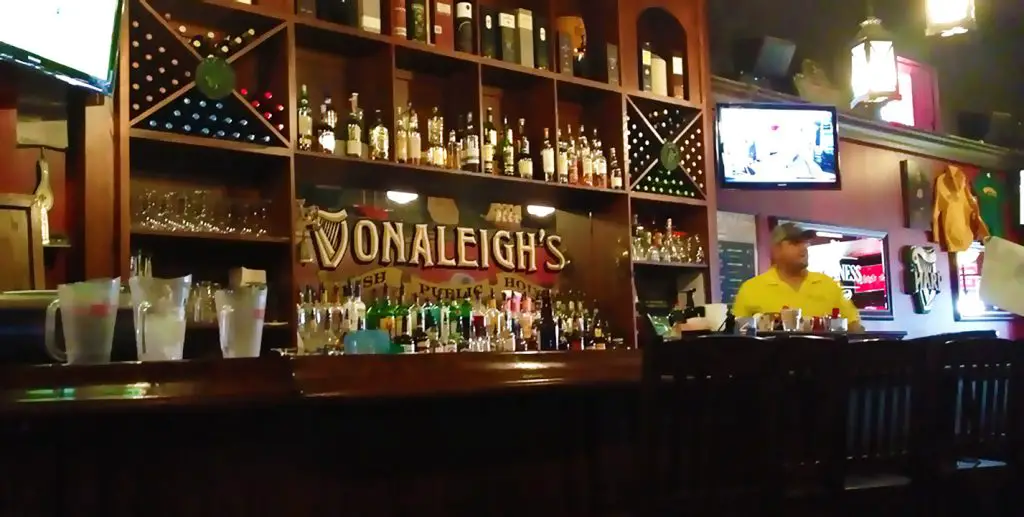 The interior is eye-catching, with a beautiful stone wall decorated with paintings and other wall decorations. Besides this, the pub also includes a huge party room for private parties, equipped with a custom-made wood bar, pub and regular tables, three large-screen LCDs, and a private bartender.    
Pros
It remains open seven days a week.
Plenty of seating options, both indoor and outdoor – booths, tables, stools, and private rooms to choose from
Praised for friendly staff on review websites
Plenty of food options to choose from, for brunch, lunch, and dinner, from American, Canadian, and Irish cuisines
Cons
Music is very loud, so noisy
Not for kids
Crowded place 
Donaleighs Irish Public House is among the busiest pubs in Barrie. That was established a decade ago but later expanded in 2014 to cater to the rising demand and popularity.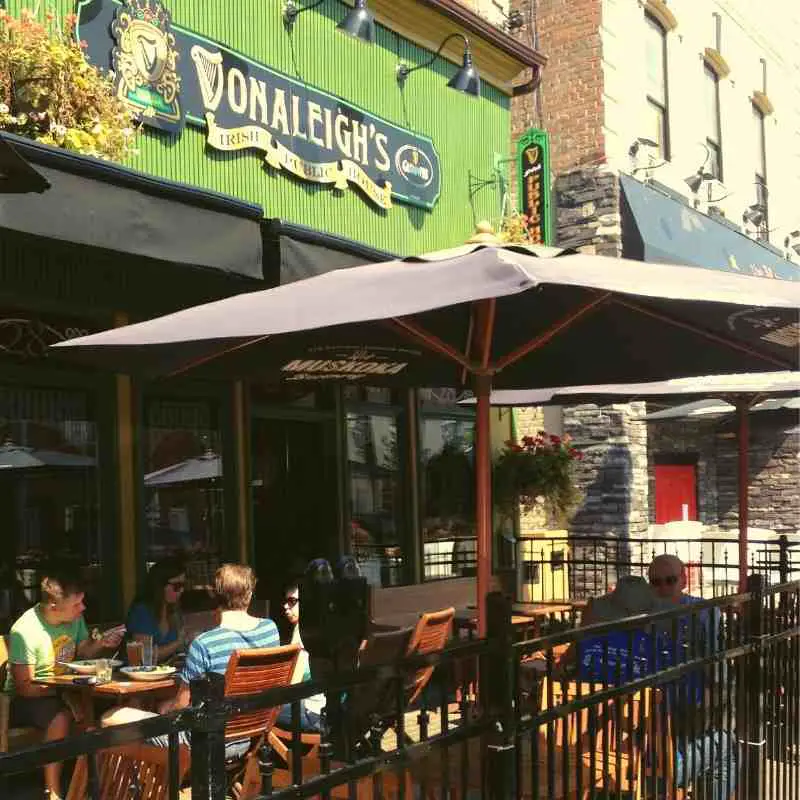 Situated right beside Kempenfelt Bay Lake and at Dunlop Street, which makes the core Barrie downtown location, it is an easy-to-access pub with plenty of street parking space. The place is among the most crowded places in Barrie primarily due to its affordable prices and friendly customer service, which are overwhelmingly praised by diners on review sites.
Donaleighs Irish Public House is ranked the 7th top-rated restaurant in Barrie out of 366 restaurants listed on TripAdvisor. Some of their most popular food options include nachos, Shepherd's Pie, brie sandwiches, and steaks. Overall, Donaleighs Irish Public House makes one of the most vibrant places in Barrie for a fun night out with friends.   
Amenities:
Big Screen TV / Satellite
Patio
Live Entertainment
Private Party Room
Hours:
Sunday, Monday – Wednesday 11:00 am – 11:00 pm
Thursday 11:00am – 1:00 am
Friday – Saturday  11:00am – 2:00 am
Phone: (705) 252-7733
Website: https://www.donaleighs.com/
For more downtown Barrie restaurants around the 5 points, see our guide to Barrie Restaurants.