Barrie is the gateway to Cottage Country and is also home to a growing food scene for every occasion. Here's our guide to some of the best Barrie restaurants to eat and drink in Barrie, Ontario.
Hugging the western curve of Lake Simcoe, Barrie is often thought of as 'just' a bedroom community for the nearby metropolis of Toronto, but that is to do this fast-growing city a disservice. In recent decades Barrie has become a vibrant, bustling place to live and work in its own right, with a booming tourist industry – thanks in part to the fantastic waterfront on Kempenfelt Bay – and a whole host of dining experiences designed to satisfy even the most demanding of palates.
Barrie now offers hundreds of exciting eateries, from old names that have been serving family favourites for years to funky new ethnic experiences, as well as a huge selection of impressive fine dining establishments, steakhouses, pubs and hidden gems that cater for any and all diets in what is a relaxed and inviting Ontarian city. Here we look at some of the best Barrie restaurants to get your taste buds tingling.
Table of Contents
Fine Dining & A Little Romance
Like most modern cities, Barrie is home to a wide selection of restaurants offering something a little more upmarket in terms of food, ambience and even understated opulence.
Michael & Marion's – a warm, intimate atmosphere with perfect lighting and a roaring fireplace add to the sense of elegance and occasion in this downtown Barrie staple. Michael & Marion's boasts an extensive menu in upscale surroundings and is perfect for a romantic evening with a loved one.
The North – Within spitting distance of the city's marina, The North restaurant is cosy and classy and serves delicious, creative food with an emphasis on seafood, steaks and smaller taster plates.
Urban Dish Grill & Wine Bar – located south of the bay, the Urban Dish Grill is an upmarket yet inviting space resplendent with dark woods and cream decor, creating a relaxing ambience for patrons as they dine on some excellent local fare.
Go Casual
Fancy a meal with friends or family in relaxed surroundings where the service is great, and the food is uniformly excellent? Take a look at these places:
By the way, if you're looking for a good burger in Barrie, we've written a Barrie burger guide here.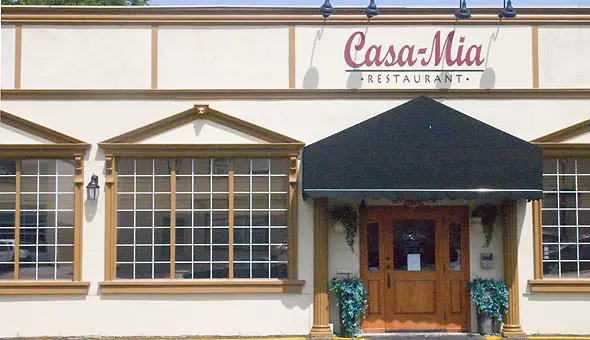 Italian Restaurants in Barrie
Italian eateries are omnipresent nowadays, and it is often easy to overlook them when choosing a place to eat – but you can't miss these Italian Barrie restaurants because they are some of the best of the bunch in the city: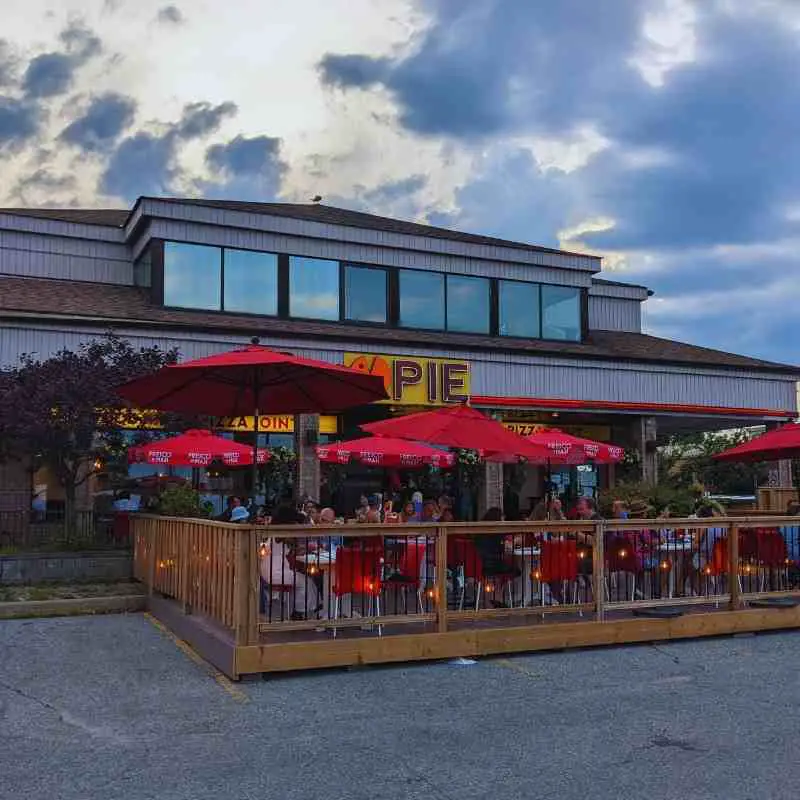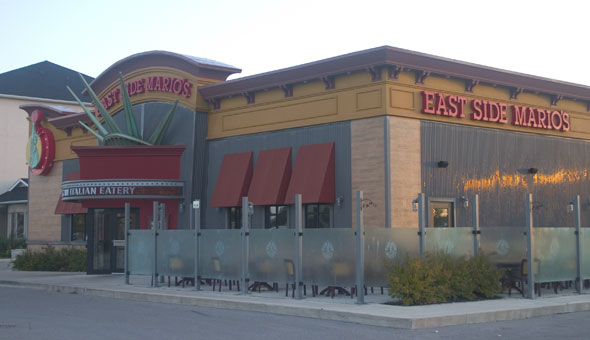 Indian Restaurants
Always a firm favourite amongst diners, Indian food offers a fantastic choice of dishes and flavours, and these Barrie hotspots never fail to deliver on both counts:
Taj Bistro – just across the way from Heritage Park and with awesome views of the bay, the Taj boasts chic décor and bountiful dishes of what the owners describe as East Indian cuisine with a 'tsunami of delicious Indian taste.'
Tiffins Curry in a Hurry – small but perfectly formed, Tiffins is cosy and welcoming and serves a wide choice of Indian classics. With its relaxed vibe and walls decked out in authentic ethnic art, the restaurant is often packed – and once you've tasted the food, it'll be easy to see why.
Tara Indian Cuisine – another restaurant jostling for space near the waterfront, but its owners need not worry about the competition: Tara is an award-winning eatery and 'palatial experience', according to the brothers who co-own and run the establishment. Eighteen years old and still going strong, Tara is one of the best in the city.
If you're looking for places open late, here's our list of places to find late-night Indian food in Barrie.
Chinese, Japanese, Thai & Sushi Spots in Barrie
There are a host of Chinese, Japanese, Thai and other Asian or Southeast Asian restaurants and takeaway in Barrie, but we've selected some of the best in the city for you to enjoy:
Noble Cuisine – a little bit out in the 'burbs but still worth the short trip, Noble Cuisine has an array of tasty Thai and Japanese sushi dishes on offer, usually for set prices, making it excellent value for money and ideal for a group night out.
Sakana House – another out-of-the-way gem, Sakana House sits on Big Bay Point Road to the southwest of Kempenfelt Bay. Make your way here to find Japanese décor with a modern twist and an a la carte menu full of favourites or an all-you-can-eat option that will guarantee you leave the place feeling very, very full.
Pho Mekong – Simple, warm and welcoming, the Pho Mekong restaurant offers – no surprise here – pho dishes, a host of other excellent Vietnamese cuisines, and a smattering of Thai offerings.
Mandarin Restaurant – big and bold, the Mandarin is a huge block of a building sitting southwest of the bay near Highway 400. Popular for years, with an extensive menu and all-you-can-eat options, this is the place to go if you want generous portions with plenty of flavours.
If you're looking for more Asian restaurants in Barrie, we have a guide to Asian restaurants in Barrie here.
Steakhouse
Sometimes a big slab of red meat with all the trimmings is the only thing that's going to hit the spot, so here are three of our top tips for Barrie's carnivores:
The Keg Steakhouse & Bar – on the city's fringes amongst a host of car parking lots and shopping malls, The Keg is a real gem and worth the trip south on the 400. Casual, enjoyable and with frequently excellent food, the emphasis here is on aged beef sirloins and shellfish, and they never disappoint.
Baton Rouge Steakhouse & Bar – north of the Kempenfelt on Bayfield Street, the Baton Rouge has been banging out top-notch meat dishes since 1992, so it's fair to say they know their onions. Sharp, modern décor and a comfortable, welcoming atmosphere make the 'BR' – as they like to be called – a firm favourite in the city.
Town & Country Steakhouse – a steak and seafood specialist, the Town & Country boasts a sleek and invitingly elegant interior of dark woods and long banquettes, while its food – served for forty-five years and counting – is superb. The original 'authentic steakhouse' in Barrie, the restaurant is one for the 'must visit' list.
Patios and On Barrie's Waterfront
The streets around Kempenfelt Bay – especially to the west and north of the water – are bristling with bars, pubs and eateries of all shapes and sizes, so there's more than enough choice for you to enjoy lunch or an evening meal while enjoying some of the best views the city has to offer.
Hooligans – a sports bar, but not just a sports bar, Hooligans' motto is 'Eat, Drink, Cheer' and they certainly have plenty to cheer about with their rooftop patio, which offers the best view of the city and the waterfront you can find in Barrie. Throw in great beers and bar meals, televisions playing the latest sports games, and frequently boisterous, fun-loving crowds, Hooligans is a great night out.
The Farmhouse Restaurant – one of the top twenty best restaurants in the city, according to TripAdvisor, The Farmhouse is a glorious converted multi-storey redbrick century home serving farm-fresh comfort food since 2013. The icing on an already tasty cake are the two exterior patios for dining on as you gaze out at the water.
Donaleigh's Irish Public House – an Irish pub with live music, solid grub and a banging atmosphere. What more could you want? Oh yes, there are patios out front and back, meaning the fun and games can spill out into the street for all to enjoy.
Flying Monkeys – just off the water and a few hundred metres from Heritage Park, Flying Monkeys Craft Brewery offers craft beers brewed on-site, tours of the premises, food and even the option to take home your choice of beverages. Excellent staff, occasional live music, and a fabulous atmosphere where it seems like you're amongst a room full of friends mean this gem is not to be missed.
Sports Bars & Pubs in Barrie
Fun, relaxing, sometimes loud and boisterous yet always enjoyable, sports bars and pubs dot the cityscape of Barrie and offer a fantastic space to wind down after a gruelling week at work. Here are three of the best in the city:
The Locker Room – Unfussy but great fun for a few hours, The Locker Room Sports Bar and Grill does what it says on the tin, but does it very well indeed. There are no airs and graces here, but the beer is plentiful and the food selection wide and flavourful, making it a favourite amongst Barrie patrons looking for a relaxed evening out.
Barnstormer Brewing & Distilling Co. – Award-winning and with a brewpub restaurant named in the top 150 in Canada and the best in Barrie itself, the Barnstormer offers house-brewed beers and ales, as well as a selection of pub grub favourites to please the punters.
Healthy Eats
Healthier foods are increasingly popular, and Barrie is no different from any other cosmopolitan city when it comes to boasting a great choice of eateries that offer something a little better for your body. Here are three of our favourites:
The Vegan Pantry – no ordinary vegan cafe, offers a tasty, healthy range of scratch-made and home-cooked dishes. Everything that can be made fresh is made, making the place extremely popular.
Avocobar – offering 'guilt-free fast food', Avocobar is a self-described custom salad shop whose sole mission is to 'make healthy eating a piece of cake'. Fun, apple-fresh and funky interiors welcome you inside, while the menu offers countless wrap and salad options, along with soups, fruit drinks and more.
Dessert & Coffee
It's not all stuffing yourself with burgers or sharing combo platters as you stare out over the bay – sometimes, it's just nice to unwind over a coffee and slice of cake as the world slips by. Barrie has lots of fabulous cafés where you can kick back for an hour.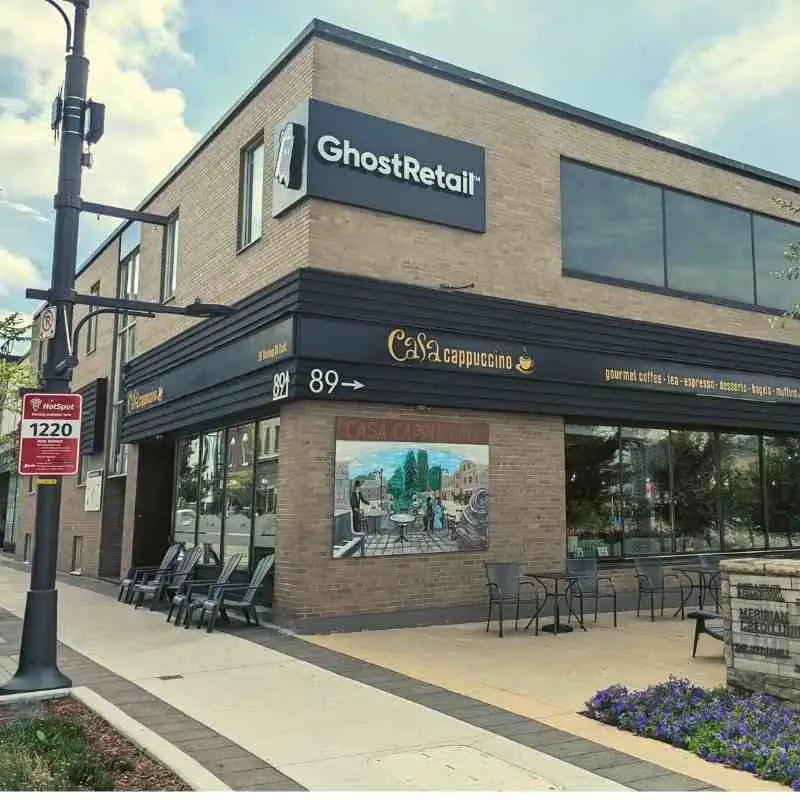 Barrie Nightclubs & Late Night Bites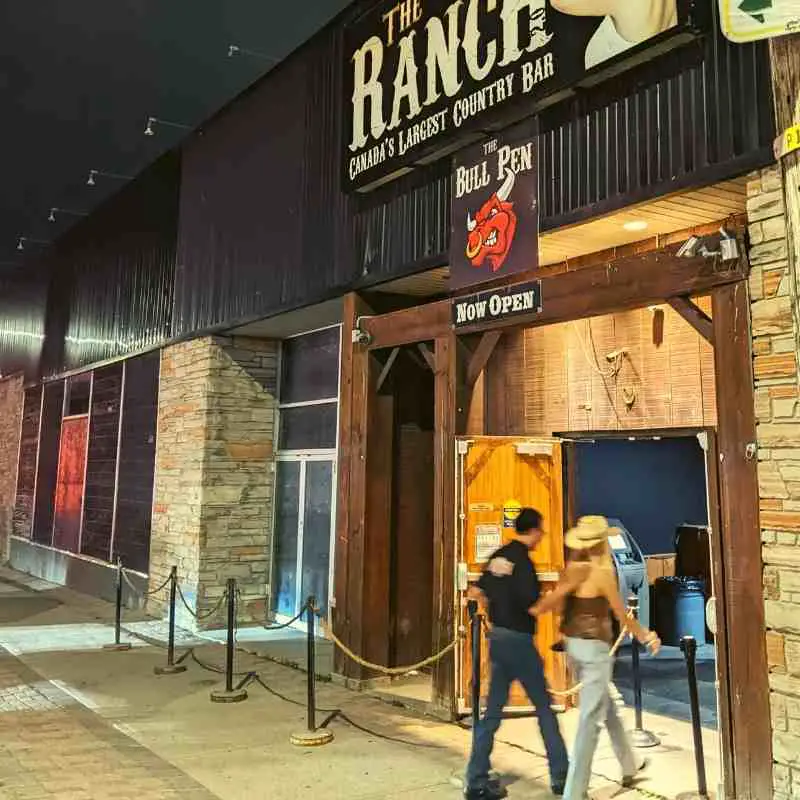 The sun has set, and you're not ready to end the day as yet, so where to go in Barrie after dark? Take a look at these places, which are guaranteed to keep you fed and entertained into the small hours:
The Ranch – if you want to just let your hair down for a few unpretentious hours, The Ranch will not disappoint. Leave any misgivings at the door and go with it inside a vast country and western bar, crammed with people on an enormous dance floor beneath a ceiling bedecked with various flags and other memorabilia. Loud crowds, louder music, a mechanical bull ride, and great times to be had late into the night.
Queens Nightclub – one of the city's most popular haunts for late-night lovers for thirty years, Queens is a fun, down-to-earth spot with excellent DJs, fine food and plenty of drinks split over two bars, the 'Dance' side and 'Sports' side.
If you're looking for more places to get some late-night eats, we've got a list of late-night eats in Barrie here.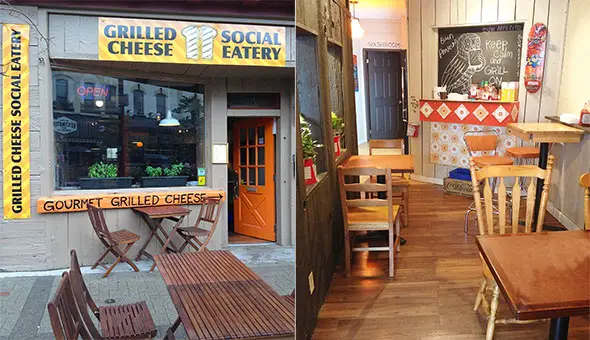 Barrie Breakfast Spots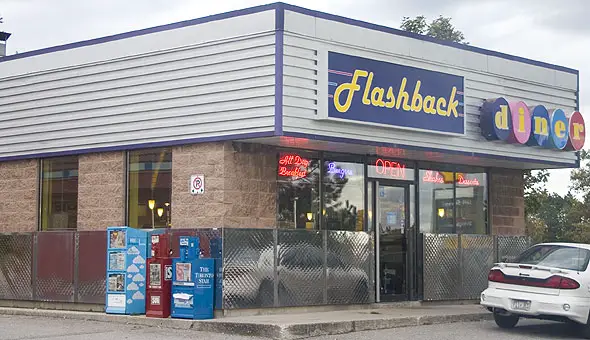 Whether it's a morning-after-the-night-before hangover cure you're after or just a relaxing early morning grazing session as you catch up with a friend, try some of Barrie's best breakfast spots:
Lazy Tulip Café – hip and colourful with a lovely relaxed vibe, the Lazy Tulip Café offers eco-friendly fare in a decorated yet wonderfully welcoming space. Sit and chat with friends over breakfast tacos, huevos rancheros or just a latte and veggie focaccia.
Stacked Pancake & Breakfast House – a fast-growing name in the local breakfast business – is opening new branches across Simcoe County – Stacked Pancake does things but incredibly well. Breakfasts and lunches combine quality food with quality service, with a huge choice of dishes and drinks to wash it down.
Cora's Breakfast and Lunch – a bright and cheerful interior provides an inviting space for Cora's patrons to enjoy the superb breakfasts (and lunches, burgers and wraps!). Something of a local institution, Cora's has been serving in various guises since 1987 when the owner, Cora Mussely Tsouflidou, opened her first restaurant in Montreal.
Next time you're in Barrie, give some of these Barrie restaurants a try if you haven't been there before, or revisit an old favourite.